ECSU welcomes the Conways to Vikingland
Posted On January 8, 2016
---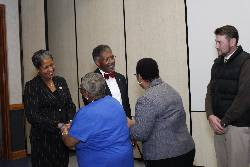 By Kesha Williams
Elizabeth City State University faculty and staff began the semester on January 5 by welcoming Chancellor Thomas Conway to the Floyd L Robinson Auditorium for the State of the University Address.
Conway, a senior administrator at Fayetteville State University since 2008 and a 32-year administrator at N.C. State University, told the audience he was happy to begin serving at ECSU where so much good work is already underway. Conway noted the university's four-year #1 ranking by Washington Monthly and the university's repeated appearances atop U.S. News and World Report's Best Colleges rankings as reasons he is confident ECSU remains an essential institution for the state. Conway acknowledged that ECSU has proven especially valuable for the thousands of northeastern North Carolinians who earned degrees here since its inception and a special place for those who commuted to the campus for its strong academic programs.
Conway urged staff and faculty to continue the tradition of reaching out to students to make sure they have an exceptional experience here. He recounted the memorable story of an instructor who made a lasting impression on him as a freshman. The instructor didn't settle for simply marking up an assigned essay that fell short of the expected level of performance for a college student. Conway credits the instructor with providing descriptive steps that could be taken to improve future writing assignments. Conway said he took that advice to heart, made a personal commitment to using those recommendations regularly and made superior grades thereafter. That personal approach to meeting a student's most urgent need inspired Conway for decades. He told ECSU staff and faculty that a caring approach to helping students reach their educational goals is sure to yield the results that we can all be proud of—- additional graduates who go on to excel as professionals.
Conway closed by assuring the faculty and staff he is here to bring out the best the people here have to offer so ECSU can reach its full potential.
---