ECSU Students' HBCU Internships with Tech Company Offer Real World Experience + Job Opportunity
Posted On December 20, 2021
---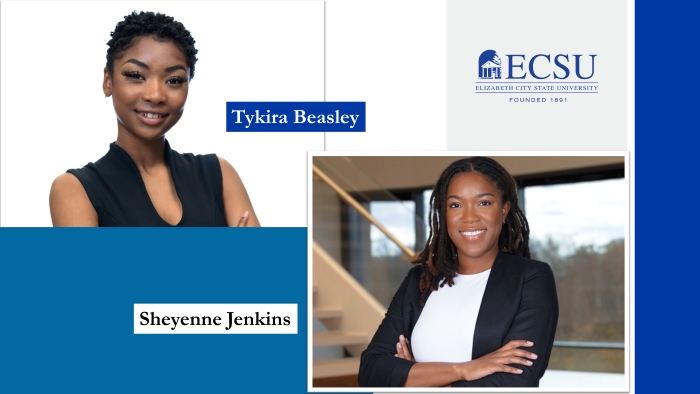 Two 2021 Elizabeth City State University (ECSU) graduates have learned how immersive internships develop critical professional skills and can turn into real-world job opportunities.  Earlier this year, ECSU partnered with technology company Cognosante to provide students with valuable work experience via three signature programs.  New alumni Tykira Beasley and Sheyenne Jenkins entered their internships eager to learn and gain meaningful technical and professional skills, and due to their exceptional work ethic and talent, were ultimately offered full-time positions with Cognosante.
Cognosante is a technology company that delivers expertise and innovative solutions to federal, state, and local governments, including data standards and analytics, cybersecurity, biometrics, and modular system development and integration.  Through its new Historically Black Colleges and Universities (HBCU) Partner Alliance, Cognosante is helping students develop technology, workplace, and career readiness skills to prepare them for the competitive workforce.
"Actively partnering with HBCUs is essential to enhancing diversity within the federal government contracting industry. I'm proud of how this program extends Cognosante's mission-oriented approach and dedication to benefiting the community," stated Cognosante Founder and CEO Michele Kang.
"Cognosante's HBCU Partner Alliance provides our students with the valuable, real-world experience necessary to compete in today's job market," said ECSU Chancellor Karrie G. Dixon.  "They have the opportunity to expand their professional network and learn the skills and knowledge needed for their future."
ECSU, North Carolina Central University, and Delaware State University are the inaugural HBCUs partnered with Cognosante.  Representatives from the three universities held joint weekly working and advisory sessions with the company to develop this unique learning program with a robust academic curriculum.
The learning goals of HBCU Partner Alliance are to:
Challenge students to apply course material and critical thinking skills to real work situations
Develop needed power skills for real-life scenarios
Provide hands-on experience, and in some cases, course credits which meet individual school requirements
Set the students up for successful job placement upon graduation through an expanded working professional network
There are three components  of Cognosante's HBCU Partner Alliance:
a 10-week paid Summer College Analyst Program, which assigns students with managers and departments aligned to their academic goals;
a semester-long paid Scholars Program in which students earn college credits while they work full-time at a Cognosante office; and
the Cognosante Campus Connection, a series of on-campus seminars, speaking engagements, and mentoring.
ECSU's Tykira Beasley was the first student in the Summer College Analyst Program where she built her skills on the Marketing and Communications team.  Sheyenne Jenkins earned one of the inaugural Scholars Program spots and was able to build her data analytics skills with the company's Performance Technology team.
2021 was the first year of the HBCU Partner Alliance, and Cognosante says it will continue the program in 2022.
---