ECSU students celebrate Women's History Month
---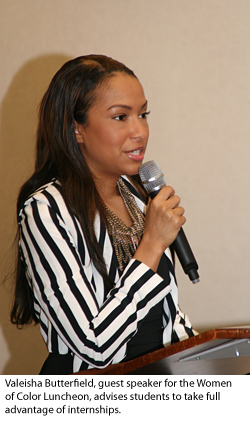 Kesha Williams
April 04, 2011
The Office of Multicultural Affairs held a Women of Color Luncheon on March 29&ampnbsp in celebration of Women's History Month in the Ridley Student Complex. The event included poetry readings, musical selections and award presentations by ECSU students. The group welcomed a North Carolina native Valeisha Butterfield as their luncheon speaker.
Butterfield currently is the Deputy Director of Public Affairs for the International Trade Administration and the co-founder of Women in Entertainment Empowerment Network. She is also a national talk and radio host, a television personality and a recognized expert on global programs designed for minorities and women worldwide. For more than a decade, Butterfield has been recognized as a professional and personal conduit for change. Butterfield was appointed to the Administration of U.S. President Barack Obama in October 2009 as the Deputy Director of Public Affairs for the International Trade Administration (ITA) in the U.S. Department of Commerce.
Butterfield drives global communications strategies, digital media and public affairs for ITA's offices in 109 U.S. cities and 77 countries worldwide. In this capacity, Butterfield also advances President Obama's National Export Initiative goal to double exports over the next five years to support two million American jobs.
At the luncheon, Butterfield urged students in the audience to take full advantage of internships, paid and unpaid, which are directly related to their fields of study. Those internships, Butterfield advised, will give students an opportunity to show prospective employers how the student can fit in the organization and make significant contributions. Butterfield also advised the students to learn how to network with confidence-avoid the temptation during networking sessions, to tell people how an organization can help you meet your individual goals. Butterfield said students should enter the organization with the goal of being an asset to the organization.
Prior to joining the Obama administration, Butterfield served as the Executive Director of the Hip-Hop Summit Action Network for nearly six years under the leadership of its founder and co-chair, Russell Simmons. Butterfield was recognized for her leadership as one of the youngest executive directors in the United States, developing critically acclaimed financial literacy and voter education programs for young adults 18 – 35 years old throughout the U.S. and Canada.
Butterfield previously served as the Director of Diversity for the national office of the Alzheimer's Association. The first to serve in this role, Butterfield developed recognized programs targeting underserved communities for the organization's 77 chapters nationwide, expanding her marketing expertise to senior populations.
In 2000, upon graduating from college with a Bachelor of Arts degree in Political Science, from Clark Atlanta University, Butterfield worked as the Field Coordinator for the Campaign to Re-Elect Chief Justice Henry Frye to the North Carolina Supreme Court. During this experience, Butterfield supported the field operations and get-out-the-vote programs of a statewide campaign for a key state in electoral politics.
Butterfield was recognized by ESSENCE Magazine as a Top 40 executive under 40 (October 2010), has been featured on Black Entertainment Television as a recognized expert on teen issues and honored by Who's Who in Black Washington, D.C. (second edition), the Boss Network and others. Butterfield is the daughter of United States Congressman G.K. Butterfield and North Carolina State Legislator Jean Farmer Butterfield.
Another program held in conjunction of Women's History Month included Sister to Sister, a women's empowerment session targeting ECSU students. The speaker was Clemontine Clark. Clark owns and operates CMH &ampamp Associate, a governmental affairs, political strategy, fundraising and community relations. The main focus of the organization is helping to elect women of color (African American, Asian and Latino) to political office.
---