ECSU recognizes area Teachers of the Year
Posted On November 25, 2015
---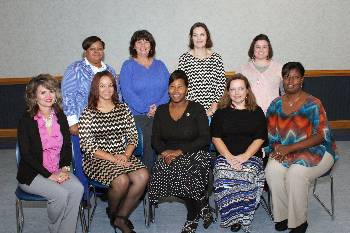 By Kesha Williams
Elizabeth City State University recognized area Teachers of the Year during a luncheon held in observation of American and International Education Week.
Seated left to right: Michelle Jackson, Nash-Rocky Mount Kortney Watford, Bertie County Erika Stephenson, Hertford County Pamela Dejigounian and Benita Arrington, Franklin County
Standing left to right: Anissa Robinson, Weldon City Stephanie Ambrose, Elizabeth City/Pasquotank County Marie Smith, Northampton County Kristin Stahl, Martin County.
Other Teachers of the Year not pictured: Mollee Holloman, Dare County Angel White, Perquimans County Erin Simons, Warren County Laurie Brooks, Edenton-Chowan County Christy Stevens, Gates County Paige Smith, Hyde County Patrick Quast, Roanoke Rapids Melissa Boyd, Beaufort County Harold Sanderlin, Currituck County Tonya Hedgepeth, Halifax County Robin Wilson, Vance County
In addition, ECSU recognized the first runner up for the Board of Governors Awards for Excellence in Teaching: Dr. Ngozi Oriaku and the second runner up for the award, Dr. Rebecca Seaman.
ECSU Departmental Teachers of the Year included:
Dr. Frank Gaskill, Dr. Kulwinder Kaur-Walker, Dr. Kacey DiGiacinto, Dr. Mary-Lynn Chambers, Dr. Kenneth Jones, Dr. Edmond Koker, Dr. Margery Coulson-Clark, and Mr. Orestes Gooden.
The Teachers of the Year received a copy of the book, "Flight to Excellence: Guaranteeing Success for All Students in the 21st Century," written by the luncheon guest speaker, Dr. Edward Newson, an ECSU alumnus, '74, and an Ombudsman with the Prince George's County Public Schools in Maryland.
---