ECSU Named Number One Most Affordable Criminal Justice Program in the Nation by University HQ
Posted On September 16, 2021
---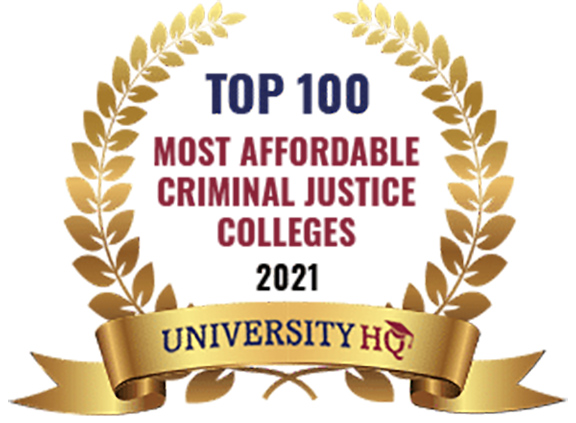 Elizabeth City State University has the number one most affordable criminal justice program in the nation, according to the college ranking organization, University HQ.
According to University HQ, earning a quality education and degree today can be costly. A "well-designed criminal justice program" can expose students, states the organization, to theories and practices of criminal justice and offer them opportunities to practice what they learn in the real world. Universities are realizing that the cost of earning that degree can be prohibitive, but institutions such as ECSU are paving the way for future generations to receive a quality education at an affordable price.
ECSU is one of the University of North Carolina System N.C. Promise Tuition Program schools. In-state students enrolling at the university pay $500 per semester for tuition, while out-of-state students are paying $2,500 per semester.
"Because criminal justice students tend to be employed in public service, having the most affordable program allows our students to go into the workforce with little debt," said the chair of ESCU's Department of Social Services, Dr. Chyna N. Crawford. "We are providing these students with the opportunities and experiences to really engage with their classmates and program faculty by truly preparing them to be active participants and change-makers in our criminal justice system."
Last spring, ECSU's criminal justice program was also ranked as one of the country's top 50 programs in the nation by Study.com. The program ranked 28th in the nation.
ECSU offers criminal justice students a wide variety of extracurricular organizations and activities to enhance their academic experience, including a chapter of Alpha Phi Sigma and the student-run Criminal Justice Club.
ECSU's program has also partnered with a variety of criminal justice organizations to provide students with a diverse array of internship opportunities. These include law enforcement departments, victim service organizations, youth services, jails and correctional institutions, and legal offices.
UniversityHQ is an independent educational organization providing information for students looking to pursue a degree in higher education. For more information about ECSU's number two ranking, go HERE.
ECSU continues to receive high rankings from national organizations such as the recent Washington Monthly top 20 for bachelor's degree colleges nationwide or the Military Times Best Bet for Vets, and most recently U.S. News and Worlds Report for Top Public Schools in the Regional South, 10th for Top Performers in Social Mobility in the Regional South, 22nd in the nation for Top HBCU, and 33rd for Best Regional College South.
Elizabeth City State University is a UNC System constituent university in Northeastern North Carolina. ECSU offers 28 bachelor's degrees and four master's degree and is the only four-year university offering a bachelor's degree in aviation science and unmanned aerial systems, or drones.
---