ECSU Hosts Golden LEAF Workforce Development Roundtable
Posted On January 30, 2020
---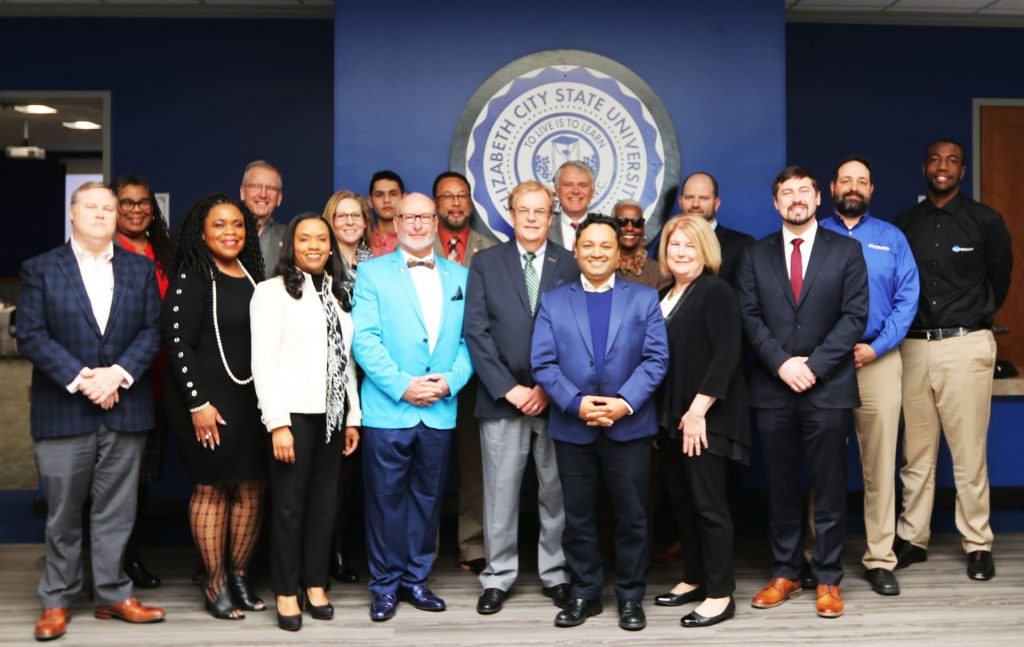 Elizabeth City State University hosted a Golden LEAF Foundation Workforce Roundtable Wednesday, Jan. 29, highlighting the impact of $7 million in funding to the region.
Joining Golden LEAF's newly appointed chief executive officer, Scott Hamilton, were representatives from ECSU, including Chancellor Karrie G. Dixon and Dr. Kuldeep Rawat, the dean of the School of Science, Aviation, Health and Technology.
Chancellor Dixon and Dr. Rawat were joined by representatives from the Elizabeth City-Pasquotank Public Schools, the Northeast Academy for Aerospace and Advanced Technologies (NEAAAT), College of the Albemarle (COA), the River City Community Development Corporation, state elected officials and more. Each representative spoke about the impact Golden LEAF grants have on education and workforce development throughout Northeastern North Carolina.
Chancellor Dixon said ECSU is motivated and excited to work with other institutions to create a strong workforce and implement change in the region. She said the region needs "for us to be bold and do something miraculous here."
The job demand in the aviation field is high locally, regionally, and nationally. ECSU's aviation program has benefited from work with Golden LEAF and has received $1.1 million in grant funds from 2014 to 2019, according to Dr. Rawat.
He shared with the roundtable participants that ECSU has been successful in expanding its aviation science curriculum to meet Federal Aviation Administration authorization and increase its aviation accreditation standards. In addition, the funds have contributed to articulation agreements with community colleges and the U.S. Coast Guard, a dual enrollment agreement with COA, and establishment of a K-through-12 outreach program.
All of this, he said, is contributing to the development of a strong aviation workforce.
One roundtable participant was William Nelson, a 2018 ECSU aviation program graduate. Mr. Nelson talked about his experience at ECSU and how it led to the launch of his career shortly after graduation as the manager of the Currituck County Airport.
"Elizabeth City State helped me get where I am today," he said. "ECSU prepared me for a job in aviation management."
NEAAAT's chief executive officer, Dr. Andrew Harris, said the non-profit charter school is also benefiting from Golden LEAF grants, and its relationship with ECSU. NEAAAT's status as a STEM school, and its location on the ECSU campus, has made for a good partnership with the university, and some students are matriculating directly to the ECSU aviation science program from NEAAAT.
Golden LEAF's Scott Hamilton stated that "workforce development is economic development and when the economy advances, prosperity follows.
"Prosperity helps create jobs, and jobs offer hope, opportunity, and dignity," he said. "That is why funding workforce development programs is so important. These organizations provide the knowledge and skills to be successful in the workplace."
---