ECSU Alumnus Coast Guard Capt. Warren Judge Receives Prestigious Black Engineer of the Year Stars and Stripes Award
Posted On February 11, 2021
---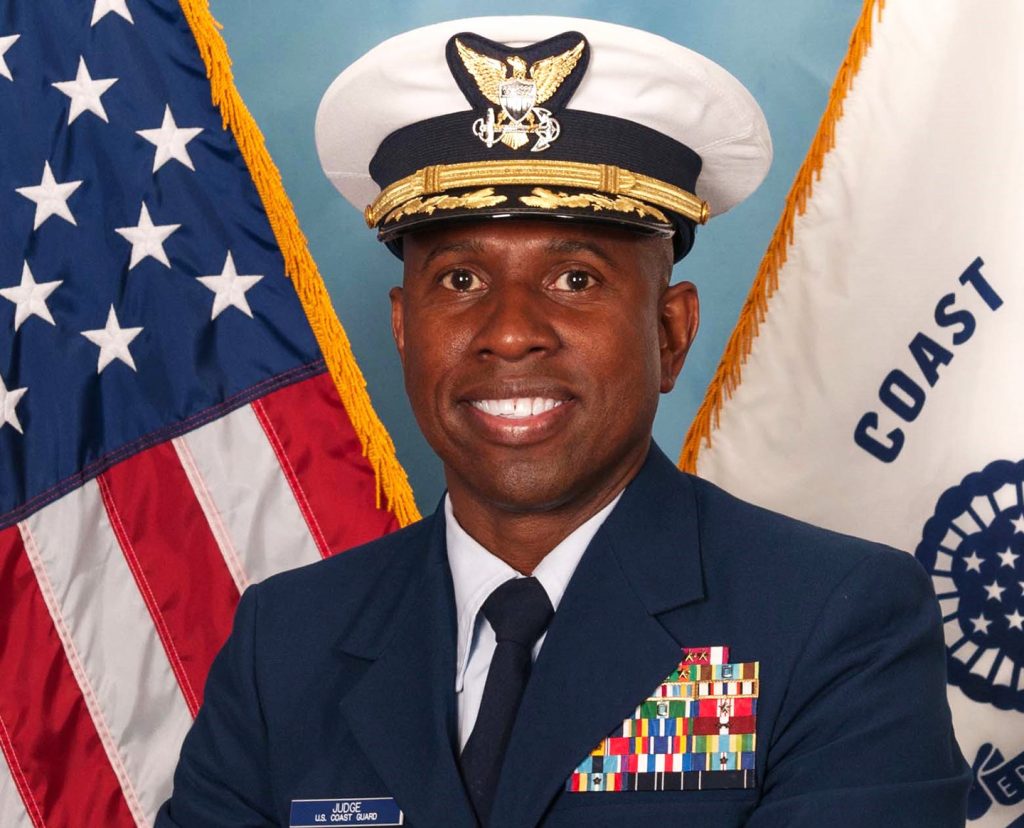 Elizabeth City State University alumnus, Coast Guard Capt. Warren Judge, has been honored with the 2021 Black Engineer of the Year Stars and Stripes Award (BEYA). The BEYA celebrates achievements in science, technology, engineering, and mathematics fields.
"I am truly humbled and honored by this award. Being a public servant, this award is for the teams and team members, mentors and mentees who have supported me throughout the years," said Capt. Judge. "I am truly blessed."
The Stars and Stripes award is one of the most prestigious and competitive honors in science, engineering, and technology management. Less than 15 individuals have been honored as Stars and Stripes award winners, according to the Coast Guard's Command, Control, Communications, Computers, Cyber and Intelligence Service Center commanding officer, Capt. Rusty Dash.
"Capt. Judge is an outstanding officer and engineer, and the perfect recipient of this award," Said Capt. Dash. "His technical expertise is helping to guide our implementation of the Commandant's Tech Revolution where we're empowering the Coast Guard with reliable, mobile, and integrated technology."
Capt. Judge leads 200 people in the Engineering Services Division, "with overwhelming positivity and infectious enthusiasm," said Capt. Dash.
"His commitment to growing and empowering the next generation of engineers and leaders sets the example for all of us," he said.
A native of Tampa, Florida, Capt. Judge joined the Coast Guard after a short stint as a student at the University of Florida. His brother had joined the service and Capt. Judge, who says he was spending more time attending to his social life rather than his studies, figured signing up was a good idea.
It turns out he was right on the money.
As an enlisted member of the Coast Guard, Capt. Judge was based in Elizabeth City. That's when he enrolled at ECSU. With a degree in computer science and a minor in aeronautics, he would next attend Officers Candidate School.
"ECSU gave me a lot of good opportunity for leadership," said Capt. Judge.
When Capt. Judge became an officer in the Coast Guard he earned his master's degree in computer science from Howard University. He would go onto serve in New Orleans during Hurricane Katrina, which led to a stint building the command and control infrastructure to manage rescue missions. Capt. Judge would go on to work in the nation's capital as the commander for career management for all Coast Guard officers.
But like many officers in the Coast Guard, his duty assignments can be varied. Capt. Judge would be chosen from 75 officers to join the White House communications team. His job was to do advance work for then President Barak Obama, building communications infrastructures prior to the president visiting locations across the country.
That job led to a tour as the White House communications officer, in charge of the entire operation at the nation's first house.
For Capt. Judge, the White House didn't seem to be enough, however. He would have to reach for higher goals, so he moved on to become the president's Air Force One communications officer. Flying with the president in what he describes as a flying White House, the ECSU graduate handled all communications on the famed jetliner.
In 2016, he would return to Elizabeth City and serve as Coast Guard Base Elizabeth City's executive officer. Capt. Judge currently lives in Elizabeth City and is stationed in Hampton Roads, Virginia.
---