Butterfield hails Wilson resident's Army Promotion
---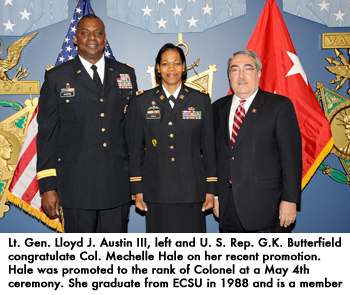 Kesha Williams
May 24, 2010
Washington, D.C. – Congressman G. K. Butterfield applauded the promotion of a Wilson, N.C. native to &quotfull bird Colonel&quot at a Pentagon May 4th ceremony.&ampnbsp
Army Lt. Col. Mechelle B. Hale, a 1988 graduate of Elizabeth City State University (ECSU), was promoted to the rank of Colonel during a ceremony with Joint Chief of Staff Director Lt. Gen. Lloyd Austin. &ampnbspHale currently serves as the Chief of the Installation Plans Branch for the Office of the Assistant Chief of Staff Installation Management Command in Washington, D.C.&ampnbspHer awards include the Defense Meritorious Service Medal, Meritorious Service Medal with Silver Oak Leaf, Army Commendation Medal with Silver Oak Leaf, Army Achievement Medal with Silver Oak Leaf, National Defense Service Medal, Armed Forces Expeditionary Medal, Army Service Ribbon, Overseas Service Ribbon, Army Parachutist Badge, and British Airborne Wings. Her special awards include the 2009 Department of Defense Military Meritorious Service Award for Blacks in Government and the 2008 Phi Delta Kappa (Germany Chapter) Philanthropian Award. &ampnbsp
&quotThe Wilson community is immensely proud of Col. Hale's accomplishments and the patriotic contributions she is making in defending our great country,&quot Butterfield said as a speaker at the ceremony. &ampnbsp
Butterfield noted that he has long known the Hale family – Col. Hale's mother was a first grade classmate and the family lived just 14 houses away. He said that she serves as an example to the community, and was especially proud that the Darden Alumni Scholarship enabled her to successfully pursue her college degree.
&ampnbsp&quotI'm proud to have been part of the effort to create the scholarship and its shows how much can be accomplished when a community comes together to help it students pursue their goals,&quot Butterfield said.&ampnbsp
Butterfield said he recently talked with Hale at ECSU's Founder's Day where she was being honored with a Chancellor's Legacy Award, and he agreed to attend the promotion ceremony. &ampnbsp
While attending ECSU, Hale was commissioned an Ordnance Officer in the Army Reserve Officer Training Corps Program, receiving Distinguished Military Graduate honors. &ampnbspFrom 1988-1991, she was assigned to the 184th Ordnance Company, Darmstadt, Germany first as a Platoon Leader, and later, as an Operations Officer. From 1991-1996, she was assigned to Fort Bragg, N.C. where she served in the 264th Corps Support Battalion first as a Company Commander, and later as the Battalion S3. As Company Commander, she deployed her unit to Haiti in support of Operation Uphold Democracy. &ampnbsp
From 1996-1998, Hale was assigned as Chief of the Ammunition Branch in the 19th Theater Army Area Command, Taegu, South Korea. She departed South Korea to complete a second consecutive overseas assignment in Hawaii.
From 1998-2001, she served in the 45th Corps Support Group, first as the Group Supply Officer and later as the Battalion Executive Officer for the 524th Corps Support Battalion. &ampnbspFrom 2002-2004, Hale served as Special Assistant to the Commanding General of Forces Command in Atlanta, Ga.
She was then assigned to a joint position in the United States Central Command, Tampa, Fla. &ampnbspFrom 2006-2009, Hale served as the first garrison commander at the U.S. Army Garrison Kaiserslautern. &ampnbspHale earned masters' degrees from Troy State University and the Naval War College. She and her husband, Ricky, have two sons, Ricky and Rashaad.
---