Beloved ECSU Professor Helen Muldrow Turns 100
---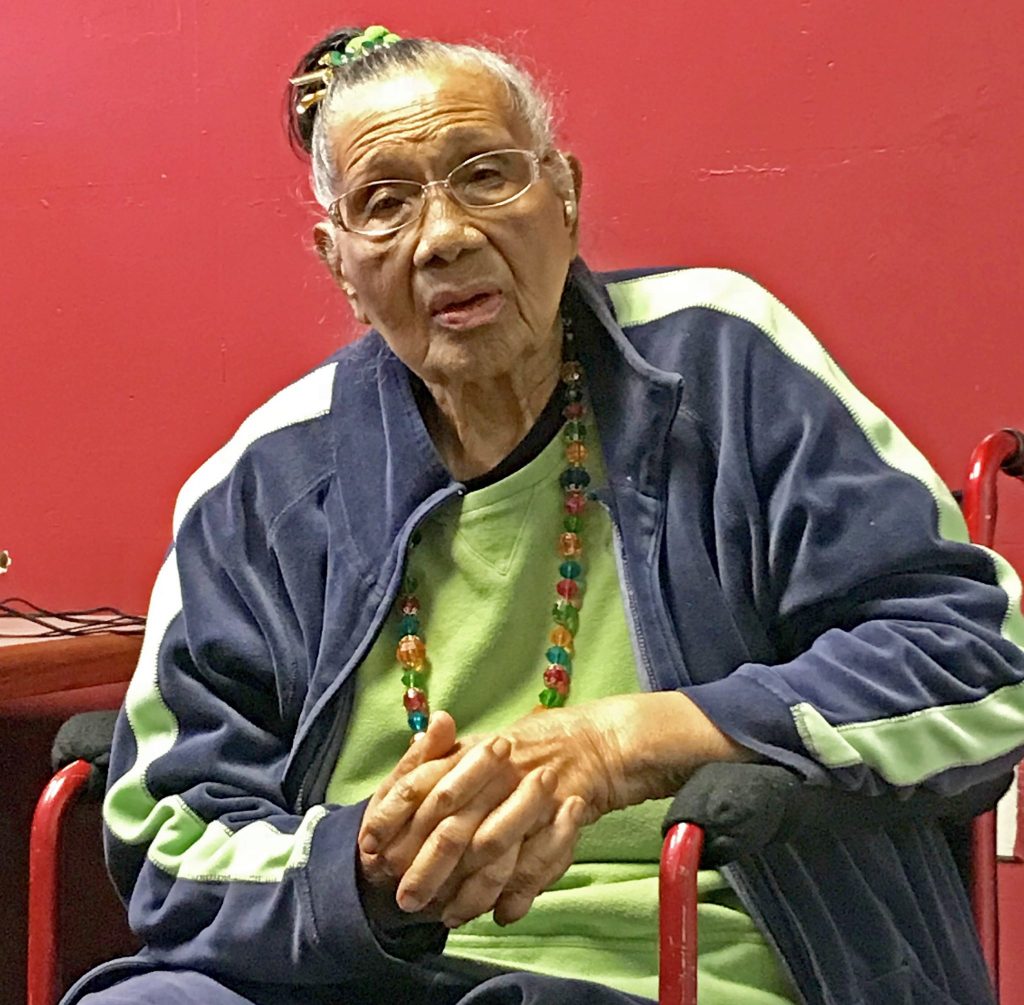 Retired ECSU biology professor, Helen Muldrow, turned 100 March 5. She discussed her career at the university in the studio of 89.9 FM WRVS prior to taping an interview on the radio show, "Around the Town with Hez Brown."
Helen Muldrow is 100 years old, and the former Elizabeth City State University biology professor wouldn't mind it one bit if she made it to 150.
"When I get to 150 I plan on petitioning God and asking for another 500 years," said Muldrow on the day of her 100th birthday, March 5.
Muldrow, who still lives in Elizabeth City, was on campus for a radio interview at 89.9 FM WRVS, on the day of her birthday. Her daughter, Disney costume designer Ida Muldrow, wheeled her mother inside Williams Hall, declaring that she may have a hard time getting around, "but her mind is as sharp as ever."
Helen Muldrow would drive that last point home over and over as she recalled her life not only as a biology professor, but also as the daughter of a Methodist preacher who showed her the love of "living things."
"My father was a genius," she said. "He would plant gardens every time we moved and I would help him. That's where I learned to love living things."
And those gardens, coupled with sermons that illustrated his love of the natural world, led Muldrow to earning a bachelor of science and masters of science degree, both from Howard University. Her aim was to become a research biologist.
Muldrow recalled that she had interviewed with a federal government research facility and was told the only job they had available was cleaning rat cages. That's OK with her, she told the man, just if she had the opportunity to move into a researcher's position once it came available.
"He told me that as long as I worked there, I would only ever clean rat cages," she said.
Helen Muldrow turned the job down, and she doesn't regret that incident one bit.
"I think it was the best thing that happened to me because I was needed to teach," said Muldrow.
Muldrow would marry William J. Muldrow, a professor of psychology. The couple came to Elizabeth City in 1947 when ECSU was known as Elizabeth City State Teachers College, and she would retire from full time teaching in 1984. Eventually the main road through campus would be named in their honor, William J. and Helen Muldrow Way.
Helen Muldrow began teaching biology in Moore Hall. Two years later she would move to her permanent home, Lester Hall, once construction was completed on the building.
Over the years, she would help pave the way for many campus traditions, such as the outdoor classroom. The outdoor classroom, located across from Bedell Hall Cafeteria, was created out of necessity, she said.
To teach biology, Muldrow needed specimens from the natural world. There wasn't a budget for her to purchase those specimens.
She and her senior students would take to the outdoor classroom, collecting water samples, insects and the like to study under the microscope.
"That was important because we didn't have money to get specimens," she said. "We had insufficient funds."
If the annual homecoming parade is something you look forward to, you can thank Muldrow for that, too. Until she suggested it, there was no parade.
Back then, the Vikings were known as the Pirates. Cars were in short supply and parade floats had to be carried by hand, except for the mascot, a pirate who would be hauled in a cart, pulled by a donkey.
But as the parade lined up, preparing to start, the donkey dropped dead on the spot. Muldrow laughs at the memory of that moment.
All of Muldrow's ECSU memories are happy ones, she says. And some are more poignant than others, like the rise of former ECSU Chancellor Jimmy Jenkins, now president of Livingstone College.
When Jenkins enrolled at ECSU, Muldrow was his biology professor. When he became a young faculty member, she became his colleague. And eventually, the student would surpass the teacher to become the chief officer of the university.
Muldrow's life as a teacher brought her great joy, she said. All she wants for her students, and current and future students, is to know that they can do what they set out to achieve; that they are capable and worthy of success.
But with that success comes a responsibility of a life of learning. Muldrow says to students: "Be attendant and go out and learn something new every day."
Helen Muldrow will be honored with the Chancellor's Legacy Award at the 2018 Founders Day Scholarship Gala Saturday, March 10.
---